10 to 12 July, 2008 5th World Latino Dance Festival in Nauders/Austria- 23st. place.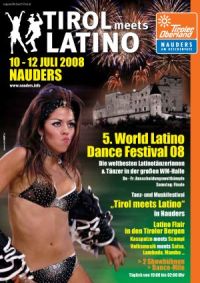 10 to 12 July 2008 the most charming Austrian city Nauders in the High-Alps was conquered by hot latino rhythms: The 5th World Latino Dance Festival took place in the city. Normally Nauders is more known as a skiing, biking or hiking area but for these three days the Latin America-feeling was brought to Tirol. About 800 dancers competed in the IDO World Championships. The Italians showed there latin temperament and won most medals. But also Czech Republic and Serbia provide the world's best Latino dancers.

Sweden and Germany won the IDO World Championships in Disco-Fox.The World Latino Dance Festival was really well organised by Ferry Polai. The Tourist board of Nauders made a great and truly successful effort to support this fantastic festival, by sponsoring a really enormous amount to build a complete hall in a huge tent that contained 1.200 seats. On Friday evening, after the competition there was a great exciting firework. The final evening, TV broadcasted in Austria, Germany and Italy. After the competition days, Nauders was full of live bands and shows. Many of the dancers and their friends and family danced outdoors in all squares and streets. People from Brazil, Chile, Romania, Poland, Turkey, Sweden, Italy, Germany, England and many other countries enjoyed this fantastic atmosphere. Overall 62 couples competed in the salsa. We were thrilled to finish in the 23rd place!!!
Marosh entered the male salsa shines category and finished in amazing 6th place!!! This had certainly been the most exciting experience!!!
Link read more about that event: http://www.ido-dance.com/ceis/webShowNewsIdo.do?typ=news&type=archive&newsId=107