The European Salsa Championship in teams 2006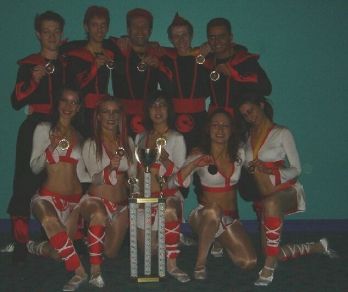 We became The European Salsa Champions in Team 2006 !!!
The European Salsa Championship in teams 22nd. – 24th. of September 2006. The UK Salsa congress and the Championship were held in South of England in Bognor Regis.  With the Diablo Dance Company we were representing UK in TEAMS category. Six salsa teams in total entered this competition and the Diablo Dance Company were crowned Champions with the 'Mortal Combat' choreography!!!  We were absolutely proud to win the Champions title as the team!!! Our top prize was also automatic qualification for the World Salsa Championships 2007 in Las Vegas!!!
Results of the European Team Salsa Championships 2006/2007
1. The Diablo Dance Company (UK)\
2. Salsa Caliente (Bulgaria)\
3. Seraphim (UK)\
4. Pura Salsa Productions (The Netherlands)
5. Baila Contigo (Spain)